Groups and Functions
Over the years Stockyard has hosted many celebrations including birthday parties and weddings.  In addition to "The Man from Snowy River" there have also been a number of other film and television events including our most recent, the MasterChef Professionals.  Corporate Get-Aways, School-Groups, Pony Clubs, Walking groups and photographic and other visual arts groups as well as Community Groups have all been a part of the very broad variety of events, functions and groups to have enjoyed the ambience of Stockyard Creek.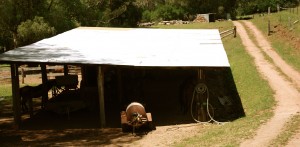 In the case of inclement weather, our saddling shed can be converted  to accommodate about 100 guests, providing a venue out of a range of weather conditions whilst maintaining a rustic, unique atmosphere.