Rooms and Beds, things to do, what to bring
WHAT WE PROVIDE – AND WHAT YOU PROVIDE
Rooms and Beds
The Old Homestead at Stockyard Creek has several seperate and several shared spaces for sleeping.
The sleeping quarters are furnished with beds and ornaments which reflect the history of the building and the area.
Each bed is made with a covered rubber foam mattress then covered with a white cotton mattress protector which in turn is covered by a coloured coverlet. Pillow protectors as well as a pillowslip are on each pillow.
The largest room is the Big Bunkhouse, which sleeps a total of 19 people and bush carpenters have fashioned timber poles into beds.
The configuration is two doubles and seven singles on the bottom floor with two doubles on the right top floor and two doubles on the left top floor. The top floors are accessed by a bush pole ladder to each floor.
The Rosetta Room has two king single beds plus a bunk bed which are also single.
The middle Room has a double with a trundle although it is a smaller room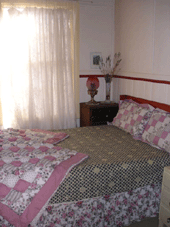 The Lake End Room has a double with a trundle.
The Cattlemen's Hut building consists of two rooms, one with a double on stilts and a trundle underneath, the other has four single bush beds around the walls.
total number if there is a head on every pillow – 36
There are three hot showers and three flushing toilets at the Old Homestead as well.
You will see there is sufficient wood, split for your convenience, to heat the hot water as well as larger wood for the open fire.
We provide rubbish bags for you to take your rubbish away with you as there is no service in the Valley.
A land line is available for emergency use only and it is expensive. You might like to arrange for your callers to ring you on 5777 5570. A tin is provided for you to contribute to the cost. There is limited mobile service in the Valley
There is a kitchen living room which has a large commercial gas stove, three sinks, a gas refrigerator and a large open fireplace.
In the Kitchen Living area area also cutlery, crockery, glassware and pots and pans and cooking implements, couches, tables and benches.
Opening off the kitchen living room is a deck overlooking the little lake with more tables, benches and chairs as well as a gas barbecue.
New LED Lighting is provided throughout the Old Homestead and guests may bring a generator if they wish.
What you provide:
Apart from clothing suitable for the mountains, you need to bring food, drinks, swag or sleeping bag or doonas and sheets, toiletries including soap and toilet paper, a coat, a hat, and a camera!