Activities
Bring your sturdy walking shoes or your own mountain bike.
Arrangements can be made should guests wish to hire bikes in Mansfield with All Terrain Cycles.  Trail bikes are not permitted. Gentle walks with maps and guides provided:
Climb to the lookout on the property and view Mt Buller, the Bluff and beyond to the Great Divide. (Stockyard is surrounded by State Forest and very close to the Alpine National Park).
Walk up Stockyard Creek to the rock walls constructed by the Chinese more than a hundred years ago, to divert the water and marvel at their engineering skills.
Walk to the legendary Howqua River and inspect the gold diggings, chimney, Fred Fry's and the Professor's Huts, a half day ramble.
There are many more demanding and spectacular hikes in the area including:
Mt. Timbertop Summit,
The Bluff Summit,
Four Mile Spur to Mt. Buller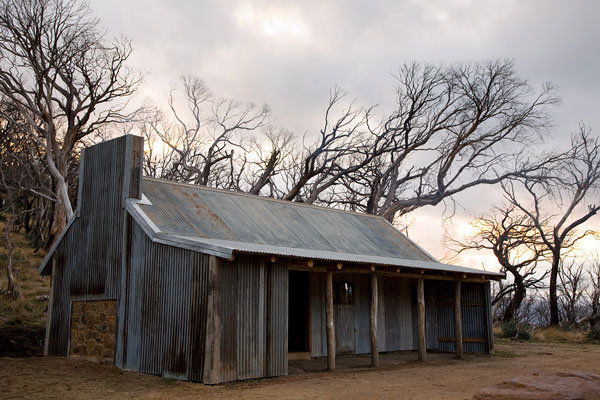 Other Activities:
For horses and horseriding select our horses & dogs page
Four wheel drive into the National park and around Howqua Hills.
Fish for trout in the Howqua River.
Visit Mt Buller, Summer or Winter (one hour drive).
Read a book by the open fire.
Watch the elusive trout rise in the lake, (no poaching!)
Relax and ask Wendy to provide a special gourmet meal, matched with local wines.
Go to the historic Merrijig pub for a counter meal ( 20 min drive)
Technology Free Family Time. Teach the Kids about the bush (no T.V., McDonald's or other consumer distractions.)
Walk your dog ( but no chasing the many kangaroos, wombats or koalas)
Drive your car further up the Howqua Track past Sheepyard Flat to Tunnel Spur. Take a torch and walk through the tunnel. Marvel at how the early miners dug the tunnel and the water race in the century before last.
Drive one hour to the newly rebuilt Bluff Hut.
Go for lunch at Kinloch's Winery.
Consider a day trip over to the King Valley Wineries.
Contact Mansfield's Visitor Information Centre for festivals, markets or art shows in the vicinity.